Lessons from the Aura stormwater harvesting project
Lessons from the Aura stormwater harvesting project
An innovative risk-based approach for identifying potential water quality issues.
By T McAlister, M Stephens, D Middleton, M Bartkow, A Watkinson and J Lampard.
This stormwater harvesting paper was first published in the Australian Water Association Water e-Journal Vol 3 No 4 2018 and is now available online to download.
a key learning of those involved in this project is that a collaborative and consultative process between the project proponent and the ultimate authority responsible for potable water safety is essential if a scheme such as that proposed at Aura is to succeed.
Introduction
Stockland is one of Australia's largest urban development companies, with a lengthy track record of delivering leading edge urban projects. Stockland is currently undertaking the Aura development on Queensland's Sunshine Coast, a 50,000-person, 2200 ha master-planned community, which commenced construction early in 2015 and will be developed over the next 20 to 30 years.
A stormwater harvesting scheme is being investigated as a potential sustainability and water management component of Aura (McAlister et al 2017 and Figure 1). This scheme could potentially realise 2 GL/year of urban stormwater being harvested and used to augment the nearby Ewen Maddock Dam, owned and operated by Seqwater.
This paper describes an innovative and transparent risk-based approach that was developed to identify potential ecological and public health water quality issues associated with the scheme. The approach described was implemented for the first time in South East Queensland. The paper also presents previous and ongoing technical investigations conducted to inform the process, preliminary findings and lessons learnt.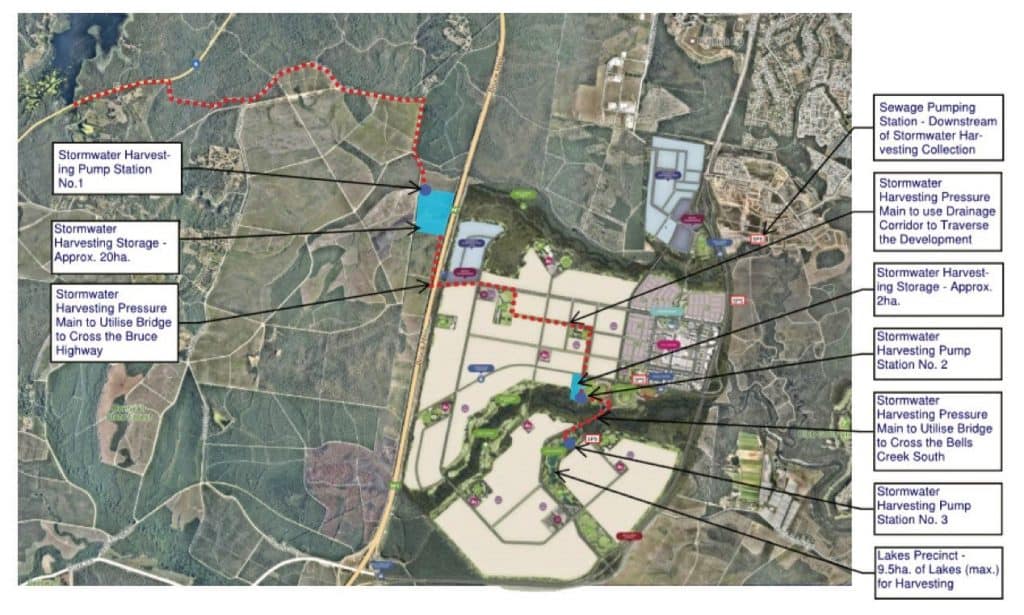 Case study summary
The water quality characteristics of stormwater vary across urban catchments (Sidhu et al. 2012, Page et al. 2013, Reeve et al. 2015, Gernjak et al. 2017). The range and load of pollutants within stormwater from a specific catchment affect its suitability for use augmenting a drinking water supply source. Establishing the physico-chemical, chemical and microbial quality of stormwater is a critical step in determining the treatment and removal processes required to meet human and ecosystem health guidelines relevant to the drinking water supply source.
This study developed a clear and transparent framework to assess the entire suite of pollutants that may be present in stormwater for further consideration and evaluation. The framework uses a prioritisation and selection approach that gave consideration to land use, stormwater treatment, dilution and assimilation, and water treatment issues. Key actions associated with the case study were to apply the framework at Aura to guide ongoing risk assessments associated with the potential stormwater harvesting scheme.
Read the full paper in the AWA Water Source